Top 5 Waterproofing Company In Singapore With Price
Hello Singapore! Today we are gonna talk about top and the best waterproofing service providers company in Singapore and Their prices.
First if you want to take emergency waterproofing service then you can click here cwp.com.sg or call: 69707644
N:B: we listed it by using google search engine's results.
No 01:
Classic Waterproofing & Plumbing (S) PTE.LTD
Welcome to Classic Waterproofing & Plumbing (S) PTE.LTD service. We highly believe reputation is our greatest asset. That's why we are 24/7 ready to provide you the one-stop solution of your waterproofing, plumbing and general construction repair service your needs. We only work with our most skilled and professional expertise and committed to delivering top-quality, unmatched customer service in Singapore. With over 12 years of full experience, we are very much well-known about which service, products, methods, and overall applications works best and ok for both residential and commercial problems. cwp.com.sg We also invite you to check the valued customer reviews that we have achieved from Singapore and as well as from other countries. So, whether you've got a real emergency on your hands, or need some non-emergency repairs or maintenance, we are ready to help you. Call us today- +6569707644
GOT A WATERPROOFING PROBLEM- Leak detection, Reinstatement, Basement, Bathroom, etc.? WE CAN HELP!
GOT A SERIOUS PLUMBING PROBLEM- Water seepage, Sanitary work, Install or repair types of equipment? WE CAN HELP!
WORRIED ABOUT PAINTING, PLASTERING, CREATE PARTITION OR FALSE CEILING WORK AT YOUR HOME? WE CAN HELP AS GENERAL CONTRACTOR!
Waterproofing Services:
Benefits to our valued customers:
Over 20 years' of experience in the industry
We are fully licensed and fully insured
Highly-trained technicians and licensed plumbers and waterproofers
Building renovators licenses
Underpinning experts
Free no-obligation assessment provided to all costumers
We use the new latest technology to ensure our services are top quality
We only repair what required at very competitive prices.
We maintain integrity, honesty, and the highest quality workmanship within the industry.
HelpLine: +65 69707644
No 02: Prima Seal Waterproofing Contractor in Singapore
Prima Seal Waterproofing Singapore offers Complete Non-hacking Waterproofing Treatment for your toilets, bathrooms, showers, roof, balconies, etc. Our Waterproofing Specialists also provide FREE on-site consultation and estimates. Click Here

As part of our waterproofing contractor service, we also provide waterproofing consultancy including diagnosis and problem solving for all type of water leakage issues and projects. This will often include site visits and recommendations for specialty applications, using the best possible waterproofing materials and waterproofing membrane. Waterproofing is a very specialized trade and we have a team of well-trained staff to carry out the projects to ensure the integrity of our installed waterproofing system.
They Said: We aim to help you determine the source of water leakage, providing high quality, environmentally friendly and cost-effective waterproofing solutions for both interior and exterior. Locating the source of the leakage is not an exact science. It is a process of elimination due to the fact that leakage may have several contributing factors and may not always be the direct result of one specific problem associated with the exterior. We will trace for water leakage issues and notify our customer whether the root cause is from flooring waterproofing, concealed water pipe or external wall caused by raining water. Let us solve your problem without worry, we will give all our customer's peace of mind.
No 03: Flux Solutions – The Water Leakage Repair Expert | Ceiling Leakage | Toilet Leakage
Water Leakage Repairs At Flux – Waterproofing Specialist Singapore, we embrace changes and know that waterproofing problems arise from all kinds of issues and environment. We are constantly researching and evolving to be at the frontier of the industry. Flux does water leakage repair and solves other kinds of leakages such as toilet leakage, roof leakage, ceiling leakage. We also offer other services such as Reinstatement, Painting, Rope Access and other general works. Click Here
Water leakages that are left undetected can cost you in the long run, thus it is important for you to know if it is necessary to conduct a water leakage repair on your pipes. Here at Flux Solutions, we use the appropriate leak detectors to identify the source of the leak. It enables us to target the right leaking area of a pipe and conduit replacement. Here, our staff are trained to identify the root of the leakage problem, conduct the water leakage repair safely and efficiently. If you are having any leakage problems, or need help in any kind of water leakage repair, call us immediately. We conduct water leakage repair works for homes and commercial buildings as well.
No 04: ProSeal Contracts PTE LTD | Waterproofing Specialist / Waterproofing Contractor Singapore
Waterproofing Specialist / Waterproofing Contractor Singapore. We are a leading waterproofing company among the many accredited waterproofing contractors companies in Singapore. We offer various waterproofing solutions in Singapore with non-obligatory waterproofing onsite analysis and consultation. As an experienced waterproofing company in Singapore, we pride ourselves in ensuring that we keep up with relevant technologies and continue to offer consistent waterproofing solutions to our clients over the years. Click Here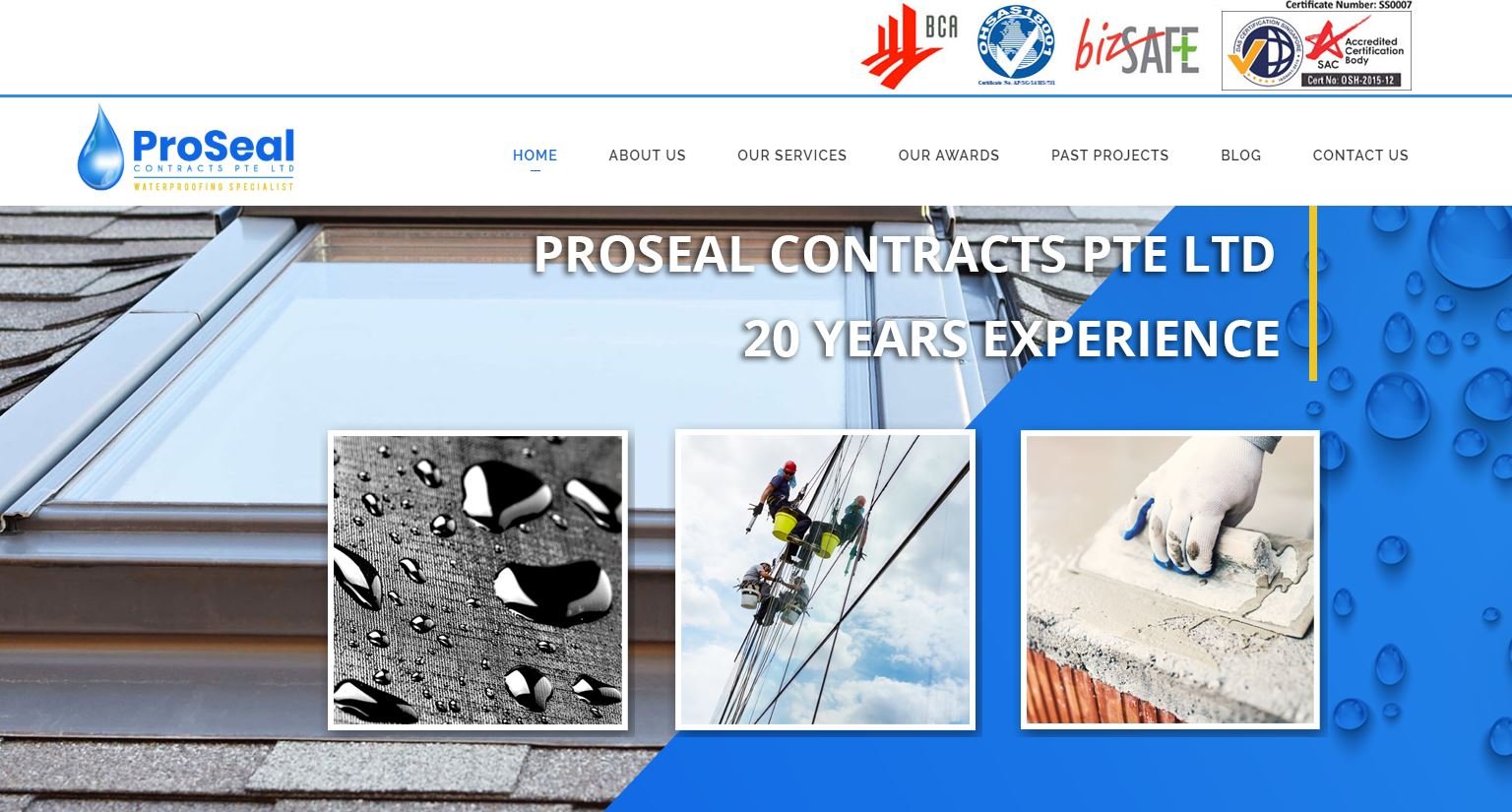 YOUR TRUSTED WATERPROOFING CONTRACTOR ABOUT Proseal: ProSeal Contracts has been in the waterproofing industry for more than 20 years, specializing in waterproofing works. We use the highest quality of materials to ensure long lasting results. Our skilled workers are also trained in seepage, roofing, concrete and general works. We aim to be a one stop solution to your water leakage problems.
No 05: Prooftech Waterproofing

Contractor & Waterproofing Specialist Singapore
---
With more than 20 years of experience in waterproofing, roofing repair, and maintenance
---
Proof-Tech Waterproofing & Maintenance Pte Ltd has worked its way up to be the top and leading specialist contractor in Singapore. Click Here
With more than 20 years of experience in waterproofing, roofing repair and maintenance, Proof-Tech Waterproofing & Maintenance Pte Ltd has worked its way up to be the top and leading specialist contractor in Singapore. With projects ranging from commercial to private landed properties, Proof-Tech has popularly known for its low price, affordable, cost-effective yet high-quality workmanship. Having more than 180 experienced professionals working round the clock, be it our sales team, customer service officers or operation staff, our response time to our respected clients is almost immediate. At Proof-Tech, it is our policy to offer materials of the highest quality, durability and overall performance. We do not compromise on these as we believe in developing strong and lasting relationships with all our clients. We cater to clients' needs not with just one type of application but tailormade according to their expectations. With our professionalism and technical know-how, Proof-Tech has earned its reputation as a reliable and trusted partner both in the commercial, residential and landed properties market.
Bonus For You
General Waterproofing is a team of professional waterproofing specialists in Singapore.
As a specialist for waterproofing systems, we offer the most extensive and efficient waterproofing system installation and repairs for the protection of buildings from water. We have an experienced team to provide consultation and install waterproofing, maintain and repair water seepages or leakages problem in a building. Go to General's Website Click Here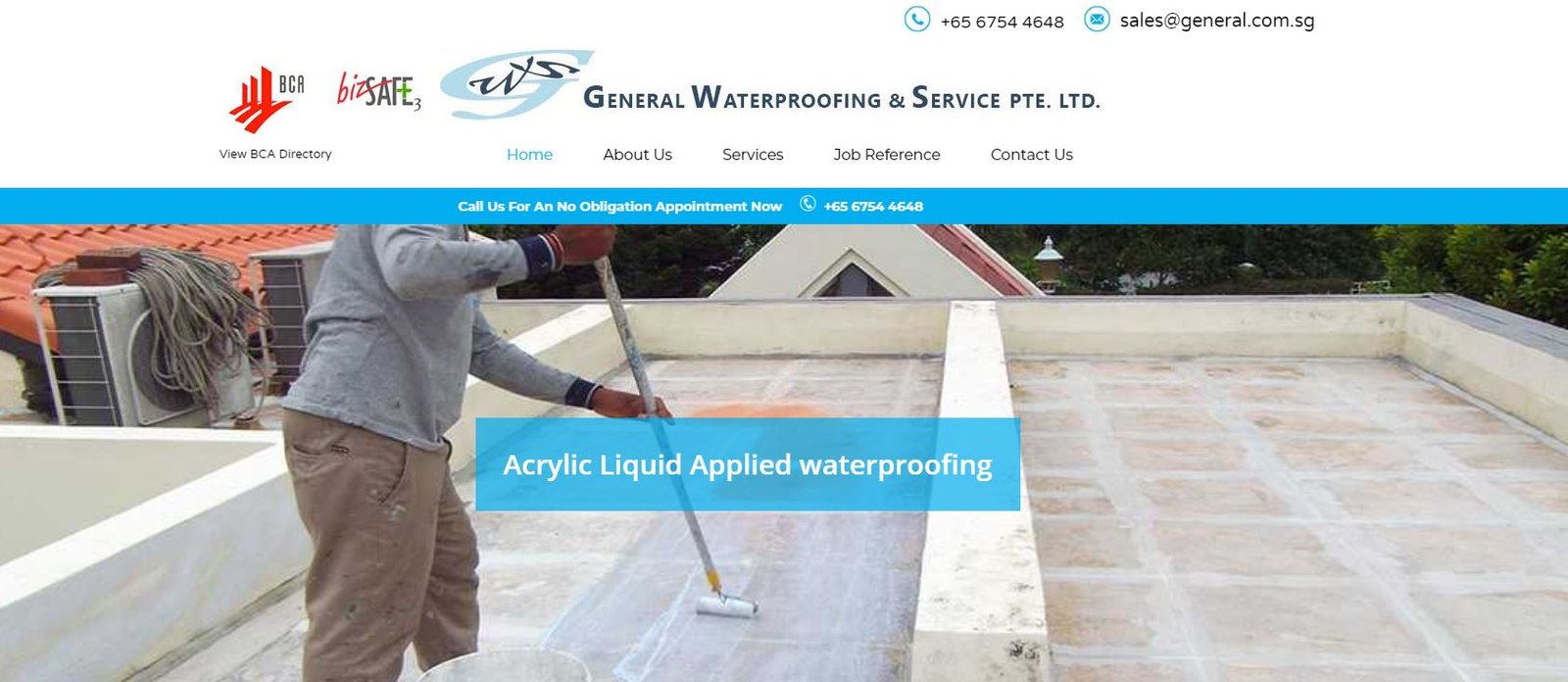 Using the latest technology in waterproofing and application systems, our waterproofing specialist company is the leading specialist in commercial, residential and industrial waterproofing. With years of experience in waterproofing system installation and repairs in Singapore, our company has involved in hundreds of waterproofing projects and has continued to perform high professional waterproofing system design, installation and solutions. Being a leading waterproofing system specialist and contractor, our waterproofing expertise using the latest technology and application systems and able to handle any waterproofing needs. All work is done by highly trained waterproofing technicians with years of experience and overseen by experienced project managers.
5 GOOD REASONS TO CHOOSE General Waterproofing:-
General Waterproofing uses the latest technology and application systems. Superior workmanship for every project. Long-term warranty for peace of mind. Problems solved within a short duration. Professional team of skilled personnel. So, General Waterproofing prides itself on the quality of our waterproofing system works and clients' satisfaction.
Hope, all are you happy to get "Top 5 Waterproofing Company In Singapore With Prices" information, thanks for being with us.