Bathroom or Toilet and Shower Waterproofing Service Contractors in Singapore, Bathrooms always exposed to significant levels of wetness. Because splash water from showers, tub tubs, basin, and other water sources produce water vapor that shrinks on the walls and floor.  Even some minor mishaps like an overflowing tub can release significant amounts of wetness on the floor. On top of that, if the bathroom has a washer machine, water pot, it can also provide unnecessary water by leaking that. So, the main challenge of keeping your bathroom neat and hygienic means to stop wetness in the substrate area. [toilet waterproofing Singapore, hdb toilet waterproofing]
That's why there are many bathroom waterproofing Singapore companies that are available who are already ready to provide modern facilities according to the waterproof problem. Suppose, if you hire any toilet waterproofing Singapore service, they will make a drainage point in your bathroom if you have an existing shower water problem. They can also reduce moisture damage problems in modern building structures by using updated waterproofing products.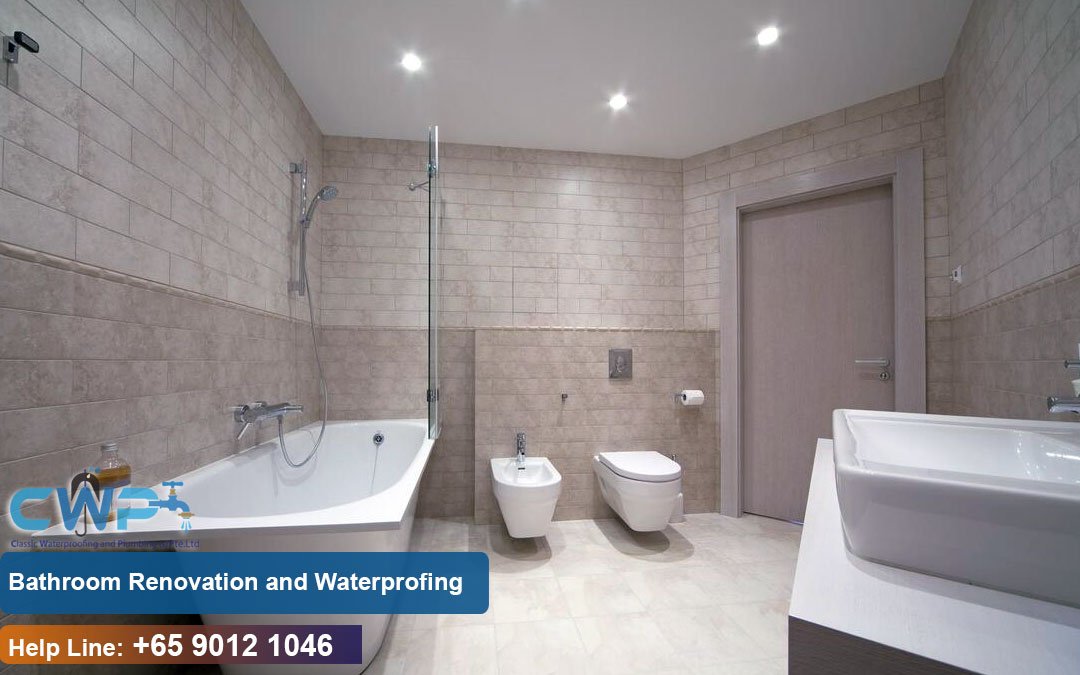 Bathroom or Toilet and Shower Waterproofing Service Contractor in Singapore
By this time, you came to know waterproofing is one of the foremost crucial stages of any bathroom renovation project, Bathroom or Toilet and Shower Waterproofing Service Contractor in Singapore. If, unfortunately, the work not done properly, water will leak into the ground and walls and cause major structural harm or damage to your home. As the bathroom is considered the largest wet space in your home, waterproofing in your bathroom may involve applying a special membrane, paint, and spray or sheet products into the bathroom area. It ensures no water escape from your toilet wet area.
The other dangerous thins is if your bathroom isn't properly waterproof, water leaks will cause mold, mildew, rising damp and peeling paint, and all. And if you do not take necessary steps, there may also be far more severe consequences such as rotting and warping of bathroom structural beams and corrosion of metal, etc. Classic Waterproofing and Plumbing Service (s) Pte.Ltd in Singapore Near Me
Waterproofing Price / Cost in Singapore:
waterproofing Price/ Cost in Singapore – Costs vary counting on the contractor you select to complete the work and the waterproofing materials used. However, as a general guide, waterproofing a bathroom prices between $3 and $5 per square foot measure. On the other side, [waterproofing Singapore price] for an average-sized bathroom, expect to pay in the vicinity of $500 to $800, although prices can vary for smaller and larger areas. If you buy toilet waterproofing products, you'll like many products. These include:
Primer: It enhances the adhesion between bathroom surfaces and waterproofing products. One gallon of primer & sealer can set you back concerning $25.
Waterproofing product: This is often the membrane you apply to prevent water leaking out of your bathroom, and spray or paint-on products are quite widespread and popular. Therefore, to give an idea about prices, 6 gallons of wet area waterproofing, a liquid waterproof membrane, prices around $200.Waterproofing Price / Cost in Singapore.
Bond breaker: it will stop the waterproofing membrane adhering to toilet joints; the bond breaker is an important item for your cart. On average, you'll be able to expect to pay nearly $85 for a roll of waterproof reinforcing material.
Waterproofing a bathroom isn't that costly of a project compared to renovations. If you are waterproofing it with high-quality material, it will be long-lasting.
Who will perform the work? Bathroom or Toilet and Shower Waterproofing:

Working systems and regulations vary from state to state in Singapore, but most states allow you to hold out renovations and waterproofing work by yourself. However, you must thoroughly consult your local waterproofing company to see any necessary permits, codes, and standards before starts your project. Bathroom or Toilet and Shower Waterproofing Service in Singapore.
About products, most hardware stores sell waterproofing products, and it's not that problem. Remember to follow all the instructions, do's, and don'ts strictly so that you would not miss out on any spots. Overall, you must be meticulous about your work. But if you DIY or hire a licensed contractor, here also keep in mind about the insurance consequences that you can claim in the future. So, make sure your requirements first and then choose the waterproofing contractor.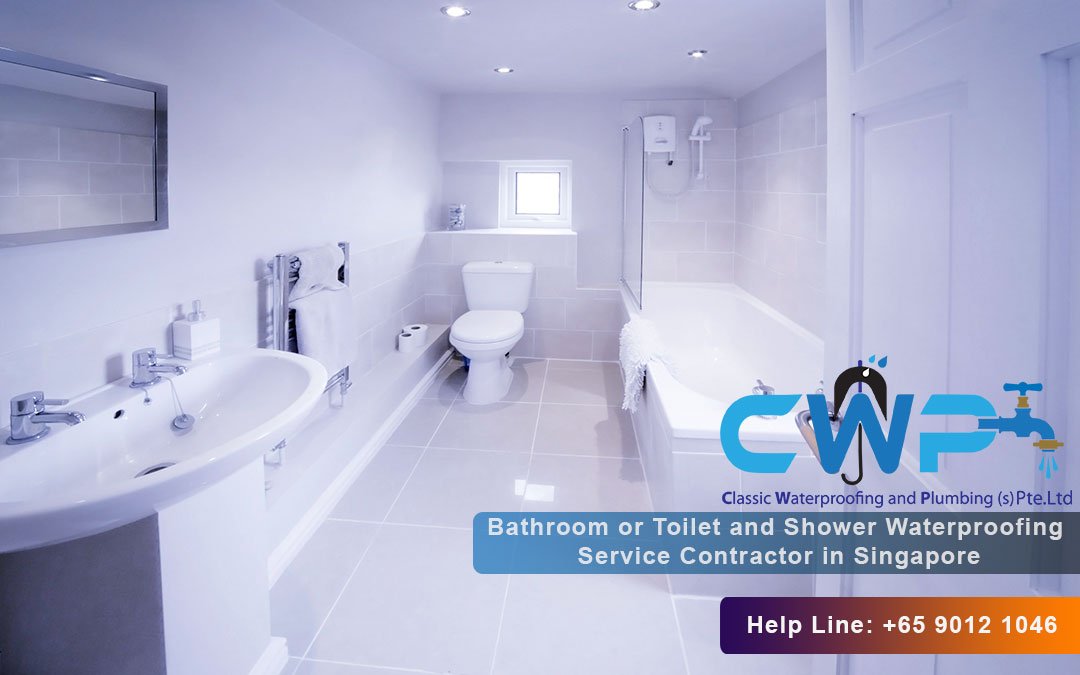 Waterproofing Singapore review/ How to waterproof a Bathroom?
Bathroom waterproofing must be done before covering, or tilting occurs. Before any waterproofing membrane applied, the areas to be treated will first need to be prepared and primed and ready. Special attention must be paid to the wall, shower, tub, and floor joints, with all surfaces left to ensure that unbroken coverage done by the waterproofing membrane.
Once the primer has applied, smooth silicone sealants are used to bathroom walls and floor where waterproofing needs to done. It is to make sure that no water gets in behind them, wherever it might cause harm.
Make sure to pay attention to any edges and corners and Waterproofing bathroom floor after tiling as they can become drawback areas for water leaks if neglected. Then a neutral cure silicon element is applied to seal the areas, whereas a polyester fabric bandage is additionally used over these joins to form a "bonds." [toilet waterproofing price, prima seal waterproofing cost / price]
Call Now – Welcome to Classic Waterproofing & Plumbing (s) Pte.Ltd – +65 9012 1046
This flexible bond stops the waterproofing membrane from adhering to joints, tiny shifts in the building over time could wear away in the membrane. A bond breaker also needed around the faucets, drains, and other alternative fittings that break through the membrane.
A liquid rubber waterproofing membrane then applied to the relevant bathroom surfaces. This primary coat is completed horizontally to Toilet floor paint. After dried, the second coat applied vertically to hide any tiny gaps which will are incomprehensible for the first time. [waterproofing toilet floor, waterproofing bathroom floor after tiling]
Once the Waterproofing toilet floor has applied, you need to give enough time for dry so that it can become tight and stick to each other. But it depends on the climate and the product you are using. Some waterproofing products provide 10 years warranty, and these are really good enough for long-lasting.
How to hire a bathroom waterproofing contractor?
Before you select a licensed waterproofing contractor for your bathroom renovation, check that you've found the right person or company for the job. You can ask the following questions:
• Are you licensed to hold toilet waterproofing?
• Do you have insurance coverage?
• How many years' experience you have in bathroom waterproofing?
• How long may it need to complete the work?
• What about the minimal cost?
• Do you provide an ant warranty for your waterproofing product used and the service?
Last but not least, make sure to compare your requirements with some other waterproofing contractors and finally decide the right bathroom waterproofing contractor for your renovation work.